Orthopedics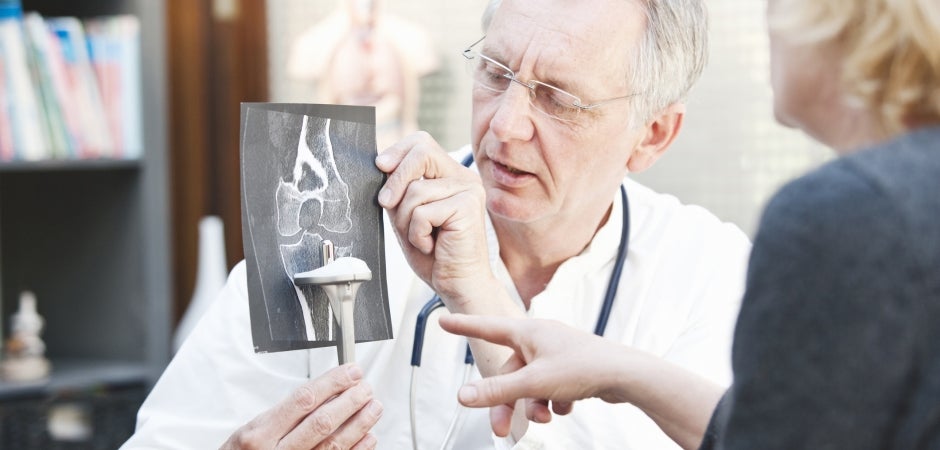 Orthopedic and joint care in New Mexico
Have you experienced numbness or pain in your hip, shoulder, knee or neck? Have pain while sleeping? It may be time to schedule an appointment with Lovelace Medical Group Orthopedics.
We offer evaluation and treatment, both surgical and non-surgical, for patients of all ages. Our skilled team of orthopedic specialists in Albuquerque and Roswell use advanced technology to diagnose and treat injuries and diseases of the bones and joints. Lovelace can help with total joint replacement, bone spur treatment and more.
We are the only orthopedic team in New Mexico utilizing the MAKO Smart Robotics – a cutting-edge robotic technology used in Total Knee, Total Hip or Partial Knee replacements.
In Albuquerque, we have several locations and providers to help meet your needs. 
Call 505.727.4430 to schedule an appointment in Albuquerque.
Orthopedics Rapid Access Clinic
Lovelace Medical Group Orthopedics Rapid Access Clinic offers care for recent orthopedic injuries, including fractures and sprains. Our experienced team is able to see most patients with broken bones the same or next day. The clinic is located at: 10511 Golf Course Rd NW, Ste. 204, and open Monday – Friday 8 a.m. – 4:30 p.m.
Call 505.727.4430 to schedule your Rapid Access Clinic appointment today.
Orthopedics and sports medicine in Roswell
In Roswell, SCOR Orthopedics is now part of Lovelace Medical Group. Our team will continue to provide patients with the highest quality of orthopedic care, from treatment of sports injuries, to joint replacement, to relief from pain caused by degenerative disease. Call 575.625.3300 to make your appointment in Roswell with Earl Latimer, M.D., Frank Bryant, M.D., John Thomas, PA-C or Jessica Steele, PA-C.
Learn more about sports medicine and injury care in Roswell  
Services and treatments
Lovelace Medical Group offers a broad range of orthopedic services, including the following specialty treatments and procedures:
General orthopedic surgery
Common treatments for orthopedic injuries include knee or hip replacement, ACL surgery, shoulder replacement, shoulder/knee arthroscopy, joint fusion, and more. It may be time to visit an orthopedic provider if you have a broken bone, fracture, muscle injury, numbness in your leg, sharp knee pain, or more.
Arthritis and rheumatologic conditions
Arthritis is often used to refer to any disorder that affects the joints. Rheumatic diseases usually affect joints, tendons, ligaments, bones, and muscles. Symptoms can include shoulder pain, hip pain while sleeping, hip pain after running, muscle aches, and more.
Traumatic conditions to the musculoskeletal system
Musculoskeletal conditions are typically characterized by pain and limited mobility, and can affect your joints, or bones. Symptoms can include hip pain while sleeping, hip pain after running, shoulder pain, and more.
Arthroscopic surgeries
These procedures can help with conditions impacting the knee, shoulder, elbow, and wrist.
This procedure may be needed if you experience shoulder pain, bone spurs in your knee, numbness from the knee down, hip pain at night or hip pain while lying on your side, pinched nerve in your elbow, knee cramps, or more.
Work related injuries
Common work-related injuries include overexertion, repetitive motion, and reaction injuries.

Overextension injuries happen when a joint is forced to move beyond its normal range of motion. Your knees, elbows, shoulders, and fingers are most susceptible.
Repetitive motion injury symptoms include tenderness, stiffness, or tingling in the legs or other affected area. Tendinitis and Bursitis are repetitive motion injuries.
Joint replacement surgery
Arthritic or damaged joint can be removed and replaced with a metal, plastic, or ceramic device called a prosthesis. The prosthesis is designed to replicate the movement of a normal, healthy joint.
Our LMG Orthopedic team performs total hip and knee replacements, as well as ankle and shoulder procedures. Ask to talk to one of our providers if you're experiencing hip pain while sleeping, hip pain while lying on your side, hip pain after running, sharp knee pain, shoulder pain, sciatica or more.
Ask a Lovelace Orthopedic Physician about the MAKO Smart Robotics – a cutting-edge robotic technology used in Total Knee, Total Hip, or Partial Knee replacements.
Hand & shoulder surgery
Signs you may need hand or shoulder surgery include pain, numbness or tingling, immobility, repetitive strains, stiffness in hand joints, inability to bend or flex fingers, bone spurs, hairline fractures, or more.
Tumors and/or masses of the musculoskeletal system
Tumors of the musculoskeletal system can originate in bone or soft tissues, such as muscle and cartilage.
Bone spurs on your knee, wrist or hand may mean it's time to see an LMG Orthopedic physician.
Providers
Click on a provider to view more information